There are several events of interest:
1.  Reforestation Urban Master Plan
There will be a meeting on Monday, November 21, at 11 am at the Federal City/Algiers Development District Auditorium at 2485 Guadalcanal St inside Federal City to discuss the Reforestation Master Plan that Sustaining Our Urban Landscape (SOUL) has created for Orleans Parish.
2.  Proposed Multi-Family Development on General DeGaulle near the Lakewood Country Club.
The Stoa Group is purchasing a piece of land on General De Gaulle Drive in front of the Lakewood Golf Course. They are planning on developing a new mixed-use complex with multi-family residential and retail uses. This would be a high-end residential development with an opportunity to bring great retail options to the area. 
They are applying for a zoning change to a Suburban Mixed-Use District in order to include both multi-family and retail together. The site will include a three-story residential structure with a combined square footage of approximately 490,000 square feet and approximately 273,000 square feet for retail along the street. On-street and surface lot parking will be provided, and no variance or waivers are required.
There is a meeting on Wednesday, November 30th, 2022, at 5:00 PM at the Lakewood Golf Course Clubhouse located at 4801 General De Gaulle Dr. for public comment.  
(The developer has a completed project on Manhattan in Harvey called "The Waters" if anyone would like to view the concept and the execution. https://www.thewatersatmanhattan.com) 
 3.  Code Hearing on 2800 Sullen in Cutoff 
From Councilman King:  On Monday, November 21, at 3 pm there will be a Code Enforcement hearing for the property located at 2800 Sullen. The hearing can be viewed remotely. This property has been an eyesore in the Cutoff neighborhood for years.  Please email the Director of Code Enforcement, Mr. Thomas Mulligan at thomas.mulligan@nola.gov and the Deputy Director of Code Enforcement, Mr. Timothy Forstall at timothy.forstall@nola.gov and let them know how important it is to have this building demolished.
4.  Zulu Celebration of Seniors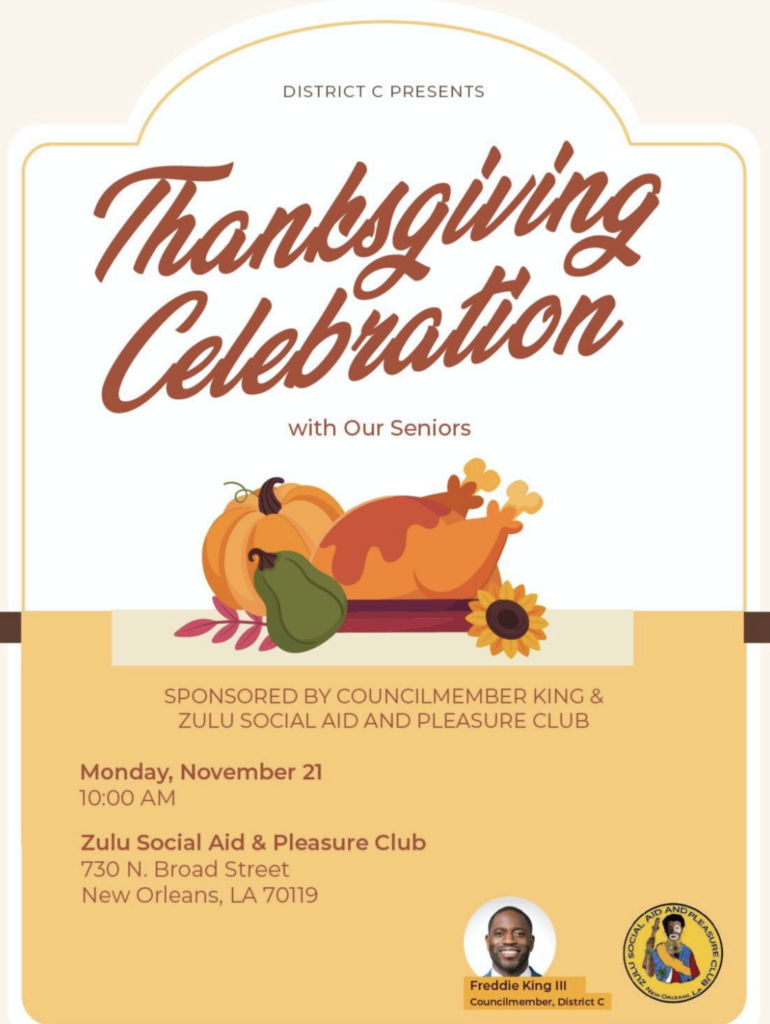 5.  Turkey Giveaway
6. Algiers Neighborhood Presidents Council: 
The public is invited to attend the Algiers Neighborhood Presidents Council November monthly meeting on Tuesday, Nov. 29, at 6 pm at the Park Timbers Clubhouse, 1 Park Timbers Drive New Orleans.  Light refreshments will be served. Please RSVP at http://evite.me/8pQJ3wysQy so they will have an idea of how many will attend.
7.  Huntlee Village Neighborhood Association Monthly Meeting
Our next monthly meeting is December 1 at 6 pm, Connect Church.  Please join us.  We will announce our speaker next week.
8.  Algiers Bonfire
December 3 from 4:30 to 6:30 at the Algiers Batture, 200 Morgan Street